My Langhe sounds of jazz: Giancarlo Ferraris and Musica delle Colline
«My Langhe sounds of Jazz. Sounds like Paolo Conte. At the first listen, the impact is immediate, simple, even could be said, popular. But after listening a few times, the depth of harmony, the complexity of the rhythm and the feelings of wonder emerge. These are my hills: an elegant rhythm, masked by provincialism».
This is the metaphor behind Giancarlo Ferraris's newest exhibition La Musica della Colline, which will be on display from June 1st to December 15th, 2019 at the Michele Chiarlo winery in Calamandrana. The exhibition is a series of "totem" pieces of vibrant-coloured, laser-cut sheets that will be installed on the vineyard poles. It will also feature a selection of paintings that the artist, a native of San Marzano Oliverto, dedicated to the hills of the Langhe and Monferrato. The land where he was born and which has been the inspiration for much of his work.
Giancarlo is a painter that captures the true spirit of this land, which what has led him to "painting wine" for the last 40 years; which is to say, that he has been designing and painting iconic and commemorative wine labels for the major part of his career.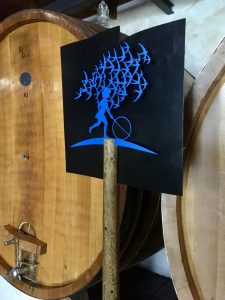 In this regard, he has been Michele Chiarlo's artist since 1970, the only one trusted to "dress" the legendary winemaker's most famed bottles: Barolo Cerequio, Barolo Cannubi, Barbaresco Asili and Nizza La Court (formerly, Barbera d'Asti "Nizza"), which won Wine Label of the year in 2000. Ferraris is one of the first and most prominently featured artists in Art Park La Court, Michele Chiarlo's open-air land art exhibition amongst the vineyards. It opened in the early 2000's displaying pieces by renowned artists Emanuele Luzzati, Balthasar Brennenstuhl, Marcello Mannuzza, Fabio Albino Cavanna, Peppino Campanella, Dedo Roggero Fossati and, more recently, Ugo Nespolo and Chris Bangle.
Ferraris shares, "When I look at my hills, I hear a rhythm. That of the colours, of the vines, of the ridges that follow one another to infinity. Here, every colour is not abstract, but terrestrial, full of atmosphere that changes in the light."
He is always looking for this rhythm to paint, just like in his labels. Ferraris says, "Music, like wine, is a collector of emotions. It is made of atmosphere, landscapes, people, details and peculiarities." These emotions emerge in all of his work, they are full of matter and metaphysics, abstract yet concrete. He uses colours that vibrate and others that are earthly and carnal, ones you could "almost drink." "The label has a practical purpose for me," Ferraris shares, "It is art that invites you to purchase, a visual presentation of the liquid. It is a synthesis of not only senses, but of concepts. Together with the wine, the label must recount the multitude of its creation; the people, the traditions, the stories, the land. In short, life."
Ferraris continues, "Musica della Colline is looking at wine as a concise manifestation of the land. That is, a place where man and nature have mutually exchanged and now are so dependent on each other that UNESCO has recognized this exceptional culture, declaring it of World Heritage of Humanity."
And art, what role does it play in all this? "For some it must be illustrative, but I believe that it is to fascinate," Ferraris concludes, "Art must seduce, conquer. It does not transmit information, but a complex set of emotions."
---
Giancarlo Ferraris – La musica delle colline
Michele Chiarlo (winery), June 1 – December 15, 2019
Strada Nizza-Canelli, Calamandrana (AT)
Tel. +39 0141 769030
Email info@chiarlo.it