Free or luxury: Live your own Michele Chiarlo experience!
Michele Chiarlo winery's goal is to allow wine tourists to "experience the best Piedmont crus", offering an engaging experience that prioritizes tourist activities in the vineyard rather than in the cellars.
This particular attention to wine tourism is shown with two projects in two of the most important estates of the winery, focusing on suggesting different tourist options that are directed to two specific clientele segments:
A free option, "active" and "pop", represented by Art Park La Court, located at the winery's Tenuta La Court in Castelnuovo Calcea at the heart of the Nizza DOCG production, and expressed through the guest's freedom to move around, independently, within the premises of a hillside landscape of extraordinary beauty.
A luxury option represented by Palás Cerequio, and reserved to a more mature crowd, attentive in choosing food and wine experiences of great prestige, both engaging and relaxing.
Through this variety, we have created two hospitality models that go beyond wine cellar tours (still always available) and that widen the wine experience, revealing it in its very essence: land and art, architecture and design, literature, hospitality and luxury dining.
ART PARK LA COURT

Twenty hectares of vineyard, three farmhouses, two hills: Art Park La Court is the widest open vineyard museum where art, landscape and wine converse with each other uninterruptedly, offering visitors one of the most unique land art experiences in the wine scene. Scattered among vineyard rows and farmsteads, Emanuele Luzzati's sculptures are all around to be seen, as well as works by Ugo Nespolo, Chris Bangle, Giancarlo Ferraris and many other artists. It is a place that is always open and in continuous development. Park admission is free and it can be roamed independently thanks to the LA COURT AUDIOGUIDE app (Android – iOS).
Via Cocito, 30 – Castelnuovo Calcea
Free admission
---
PALÁS CEREQUIO
Located in one of the most spectacular vineyards in La Morra, Palás Cerequio is more than a hotel, more than a boutique hotel, more than a country house: it is the first resort dedicated to Barolo crus, where every single detail dialogues with its surroundings – architecture, furnishing, art works, spectacular views overlooking the vineyards, a fine dining restaurant, excellent food and wine selections. Palás Cerequio is an ode to the great Piedmont wines, a place where everything must be tasted leisurely and with openness to magnificence: "experience the best cru", just like how Michele Chiarlo's mantra goes.
The Barolo "Caveau" 
In the 18th century cellars of Palás Cerequio lies Cerequio's Caveau, cool and silent, a memory of the great Barolo crus. Here stands Michele Chiarlo's history: over half a century's worth of Barolo vintage, from 1958 up to the present, in a collection of more than 6,000 bottles, in different shapes and sizes. An experience filled with passion that can be felt while tasting bottles of more than 50 years of age.
Palás Cerequio's Private Tasting
One of the most exclusive services at Palás Cerequio is the horizontal and vertical tastings of old vintages. It is a one-of-a-kind journey, under the guidance of the sommelier Roberto Stroppiana, through the selection of labels produced by the most prestigious crus of the Barolo denomination.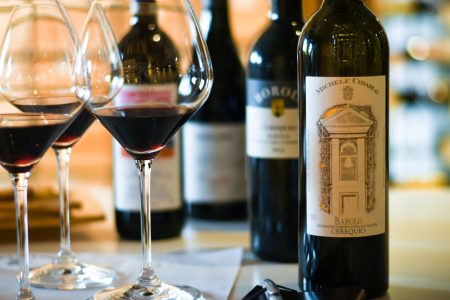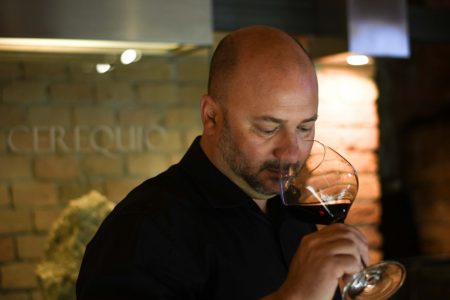 INFO & PRENOTAZIONI
Palás Cerequio is a "Destination Tesla" and the facility is equipped with Tesla charger.