Art in the bottle and a bottle of Art: here is the 19th lot by Michele Chiarlo Wine Club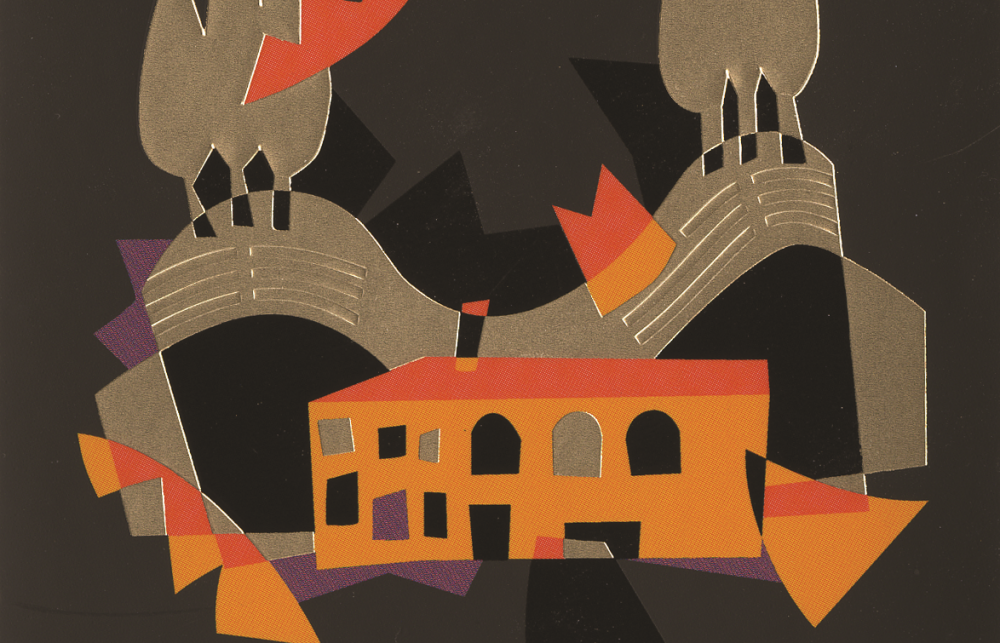 Some wines inspire encounters, while others are the most authentic fruits of such meetings.
La Court Vigna Veja Nizza DOCG Riserva 2016 falls into the latter. This label was born out of the encounter of two "artists" from different fields: winemaker Michele Chiarlo and Ugo Nespolo, the greatest exponent of Italian Pop Art. The bond was forged in an equally inspiring vineyard, Tenuta La Court, where the Art Park La Court can be found: an open-air museum among the vineyards founded by Michele Chiarlo in Castelnuovo Calcea, in 2003.
After holding an exhibit there, Ugo Nespolo fell in love with the place and the extraordinary wines it produces. Together, they came up with two astounding ideas: Nespolo would embellish the Art Park La Court with one of his works, Porta Sulle Colline (installed in 2013 and still visible today); while Michele Chiarlo would produce a special and rare Riserva, a bottle of Nizza Docg vinified using grapes from an old vineyard («Vigna Veja», in Piedmontese dialect) and aged for 4 years, of which 2 spent in wooden barrels. The creation of the label for La Court Vigna Veja Nizza DOCG Riserva 2016 was entrusted to Nespolo, who sealed the friendship and the quality of Michele Chiarlo's Nizza Docg with a design dedicated to Tenuta La Court. AN EXCEPTIONAL VINTAGE
Michele Chiarlo Wine Club's new lot exclusively offers its members the chance to purchase the authentic  fruit of the encounter between Michele Chiarlo and Ugo Nespolo: La Court Vigna Veja Nizza DOCG Riserva 2016. Vigna Veja is made only in the best vintages, in a very limited number of bottles, about 3,000.
The vintage is 2016, an extraordinarily remarkable year . The mild climate of spring favored a slow ripening of the grapes, which reached perfect maturation in time for harvest. An «exceptional» season that yielded an intense, elegant and complex La Court Vigna Veja Nizza DOCG Riserva 2016 endowed with potential for a very long aging. A «velvety harmony of small black fruits», as enologist Stefano Chiarlo wrote in the tasting notes, «with a very long and persistent finish». A SIGNATURE LABEL The bottles of La Court Vigna Veja Nizza DOCG Riserva 2016 are enclosed in an elegant wooden box with a transparent plexiglass lid that highlights the wonderful label created by Ugo Nespolo for this special Riserva.
---
THE LOT INCLUDES
---
---
Real privilege is where passion finds the right space. We consider our Wine Club as a way to gratify the people who have always supported our winery and its efforts in putting the quality of the products together with the beauty of the territory, in a constant pursuit of excellence which is the foundation of our idea of winemaking. But it is also an opportunity for those who have recently discovered our winery and want to share with us the experience of living in one of the most renowned and highly appreciated wine regions in the world.
To receive exclusive offers from our Wine Club, you will just need to sign up to our newsletter. Every month, special lots will be presented: extremely rare bottles, great vintages, limited editions or tickets for exclusive events or dinner with the producer. Our offers, available only for specific periods and in limited quantities, will be sent exclusively to our members, giving them the chance to make their reservation by filling up a designated form. Loyalty to the Wine Club and active participation will be greatly rewarded: more exclusive services, rewards and selected and customized gifts will be made available.