Three summer pairings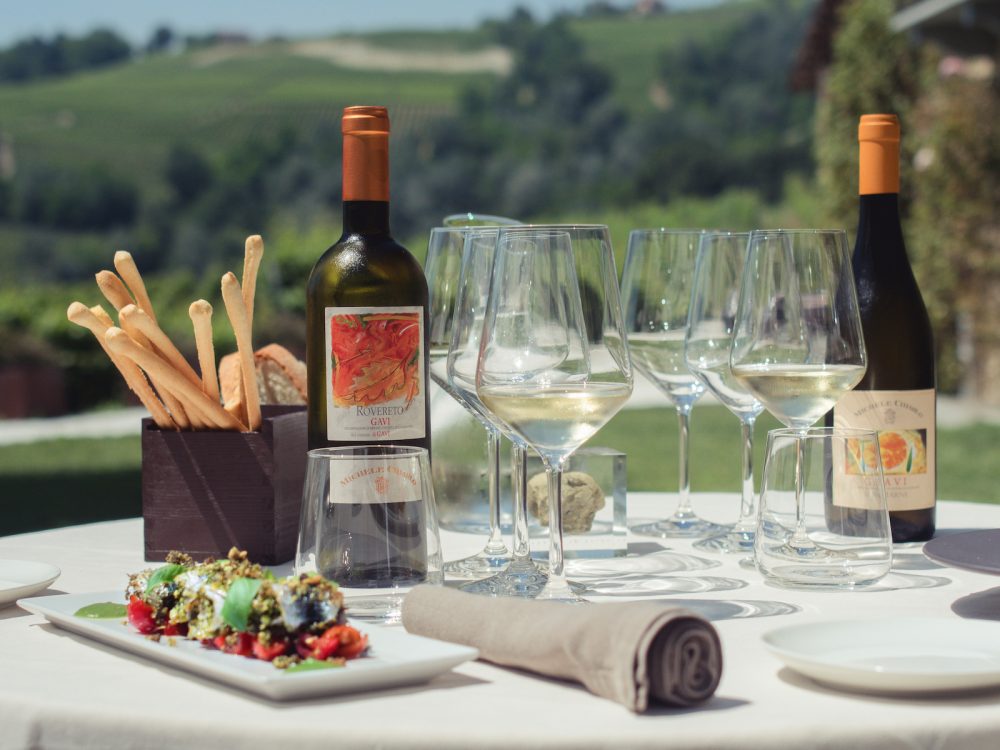 We asked Vincenzo la Corte, chef at Relais Palás Cerequio, to pair three Michele Chiarlo wines with some of his creations. The result was a conversation about his idea of a cuisine that combines the traditions of Langa and memories of the sea.
From the sea of Antigua to the marin (a warm wind from the south-east) of the Langhe. Vincenzo La Corte, chef at Michele Chiarlo's Relais Palás Cerequio, underscores how the sea inspires his work, a continuous dialogue between waves and hills. An influence that stems from his experiences in the Caribbean, Sardinia and Liguria, and above all, from his own genetic heritage. His Sicilian parents, who emigrated to Mondovì, passed on vivid memories of Mediterranean flavours whose presence can be found in many of his creations.
«The sea has a complete, distinctive flavour that has always fascinated and captivated me, even when I was a long way from the coast" says 31 year old La Corte. «In reality, it's a simple flavour, which should be kept as intact as possible, and which because of its delicacy combines well with the cuisine of the Langhe, where I now live and work". Since 2011, Vincenzo has been in charge of the kitchens at Relais Palás Cerequio, the first resort dedicated to the great Barolo crus, an hotel where the centuries-old winemaking tradition of the area is celebrated but also reinterpreted to offer it with nuances that are original but always respectful of its roots.
«The delicacy with which I learned to respect the flavours of the sea also inspire my attitude with regard to local ingredients", continues the chef. "In the Palás kitchens we use raw ingredients from trusted small suppliers, selected to meet standards of freshness and seasonality and always cooked on a daily basis. We always try to enhance the natural flavours of the products, relying on the contrasts created by different combinations rather than on the use of spices and herbs".
An example of this philosophy is his winter menu dish of spaghetti with anchovies and leeks dusted with garlic-scented breadcrumbs. A symphony of Liguria (anchovies from the Riviera being one of the few fish used in subalpine cuisine), Piedmont, with Cervere leeks, and Sicily – where pasta is often scattered not with cheese but with crispy breadcrumbs.
Sea, hills and now wine. Can you tell us how you ended up at Relais Palás Cerequio?
After graduating from the Mondovì Hotel School, I worked in Sardinia for a number of summer seasons. Later, I worked at the Antica Corona Reale in Cervere, at the Boscareto under Giampiero Vivalda, and in Antigua in the Lesser Antilles. But I have also lived in Switzerland and Russia, in Moscow, where I worked for the Italian Embassy and in some top class Italian restaurants. In 2014 I came back to Italy, where together with the Chiarlo family we opened the Relais Palás Cerequio restaurant.
What did you bring with you from your experiences abroad?
The flavours of the sea from Sardinia and the Caribbean. Kitchen organization from Switzerland, precision in measuring ingredients and creating well-balanced dishes from Russia. At Relais Palás Cerequio I can now put the lessons learned during my long apprenticeship to good use with freedom of expression and creativity, and also learning a few new secrets.
Such as?
Working in a Michele Chiarlo hotel has forced me to learn about the world of Piedmont wines, to study and design dishes trying to understand how they can be paired with local wines. A process of collaboration that fascinates me and pushes me to invent new pairings
In this regard, we would like to suggest to our readers some summer pairings that you have on the menu. Let's begin with antipasti with Rovereto, Gavi del Comune di Gavi, a wine with great personality.
I like to combine the great minerality and freshness of this wine with a fish dish. We offer it with sarde a beccafico, a typical Sicilian sardine dish. Rovereto goes extremely well with the sweet and savoury contrast created by raisins, pine nuts, parsley and garlic, all served on a bed of baby plum tomatoes and the essential dusting of breadcrumbs.
Let's continue with Nizza DOCG Cipressi, the super Barbera d'Asti produced in just 18 towns in Monferrato, which was awarded its appellation in 2014.
The extreme pleasantness of Cipressi and its typical acidity goes well with a traditional Piedmont pasta dish,   agnolotti del plin with a three-roast filling of pork, rabbit and veal. To enhance the freshness of Nizza and "reproduce" it in the dish, we plate the agnolotti with aromatic herbs grown in our kitchen garden.
Finally, a dessert with a glass of Moscato d'Asti Nivole DOCG.
With its floral, fruity bouquet, Nivole encompasses the quintessence of Piedmont Moscato d'Asti. We decided to pair it with Roero peaches, an indigenous summer fruit.  Ours is the traditional recipe of peaches stuffed with chocolate and amaretti biscuits, but to enhance the freshness and pleasantness of the Moscato, we serve them with a cold peach puree and a peach sorbet. In other words,  stuffed peaches to the third degree!