Art Park La Court: a vineyard to be lived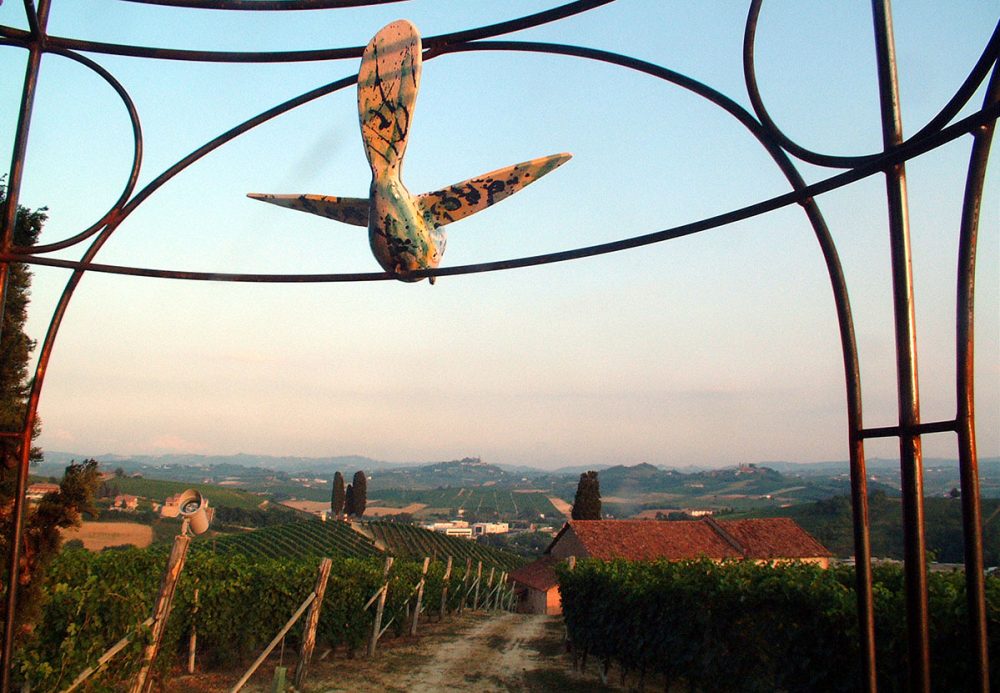 Art Park La Court opens a new space for tasting Michele Chiarlo wines and exploring top Piedmont cru.
Art Park La Court is one of the most fascinating and original places in the Piedmont hills, one of Italy's rare examples of land art among the vines. Among 20 hectares (49 acres) of vineyards on the La Court Estate located in Castelnuovo Calcea, landscape, art, culture and wine form a harmonious whole that is both unique and fascinating.
Opened in 2003, Art Park La Court offers visitors an itinerary that encompasses the land, wine production, Piedmont's historic and cultural memory and contemporary art, all set in a great open-air museum among the vineyards of Piedmont, in an area recognized as a UNESCO World Heritage Site. The itinerary at La Court is illustrated by artists of international fame, with monumental works by Emanuele Luzzati, Ugo Nespolo, Giancarlo Ferraris and Chris Bangle – to name but a few – that highlight and emphasise the relationship between man and the surrounding landscape.
Visiting the Art Park La Court
Visitors can come to the art park, which is open all year round, for free with no reservations. Although signposts and directions suggest an itinerary, visitors may customise their experience. A dedicated free Art Park La Court app which can be downloaded from Google Store or Apple Store provides an interactive guided explanation with information about the place, wine production, the works and the artists.
Free Wi-Fi throughout the area means visitors can download the app and browse the internet even in the absence of data connection.
Visitors can walk or bike through the Art Park in line with the respect for the environment and the priority Chiarlo has always given to sustainability. E-bikes, or booster bikes, can be rented at the Park for rides along the delightful trails and dirt roads on the hills over which the Estate spreads.
Another reason
Art Park La Court has created a brand new space for tasting and buying Michele Chiarlo wines, starting from summer 2017.
Open by reservation during the week and at the weekends from 10.00 am to 12.00 noon and from 3.00 to 6.00pm, the tasting room provides a unique opportunity to experience and enjoy both the Park and Michele Chiarlo's wines. Wines available for tasting include the labels that Chiarlo produces on over 100 hectares cultivated in Langhe, Monferrato and Gavi. Above all, it offers visitors the chance to get to know the Barbera d'Asti and Nizza that come directly from the La Court Estate vineyards, a single twenty hectare piece of vine-planted land extending over two hills. The size makes it one of the biggest and loveliest plots of land in Monferrato, in the midst of the most historic and favourable zone for cultivation of Barbera grapes. Beginning with the 2014 vintage, Barbera d'Asti Superiore di Nizza DOCG has been granted the appellation Nizza DOCG.
Some of Michele Chiarlo's most sought-after lables are produced at La Court Estate – Nizza Docg Cipressi, Barbera d'Asti Superiore Nizza Docg La Court,  Barbera d'Asti Superiore Nizza Docg La Court Vigna Veja and Barbera d'Asti Docg Le Orme "16 mesi".
Visitors can book Tasting Tours at the tasting area, which is also an information point about the Michele Chiarlo winery, choosing from Classic or Premium Cellar Tours with tasting, the Vineyard tour (guided tour of the Art Park and tasting) and Customized Tours.