Damiano Nigro, I bring my «evolutionary» cuisine to Palás Cerequio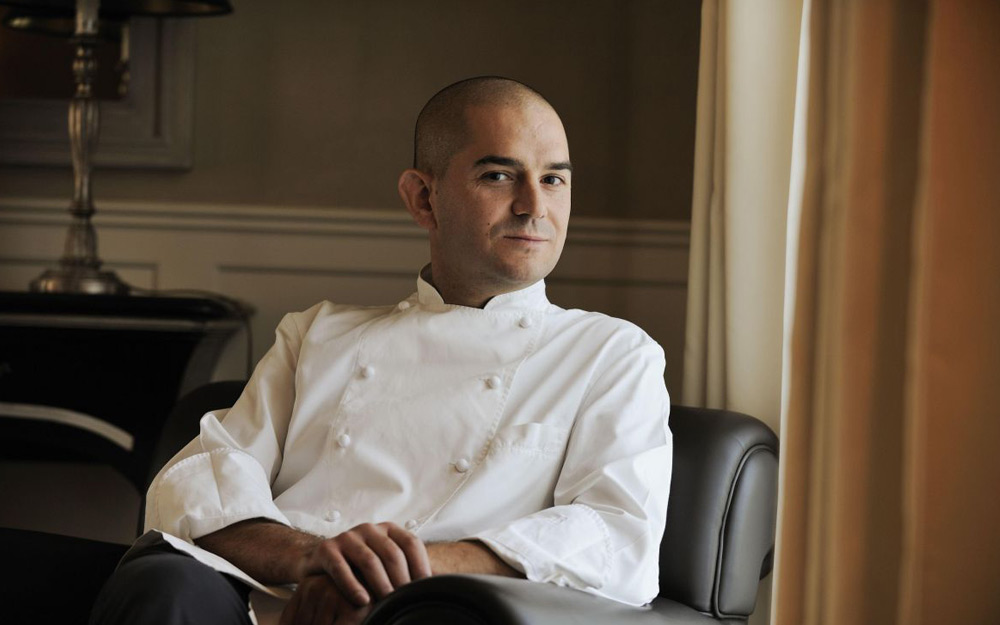 Born in 1973, hailing from Brindisi. He grew among tomatoes and olive groves in the family farm, where he learned how to make ragù from the women of the house. He worked his way up in different kitchens all around the world, from Gualtiero Marchesi to Alain Ducasse, from washing dishes to serving as sous chef for Enrico Crippa. A Vivaldi enthusiast and kickboxing aficionado.
These are the many faces of Damiano Nigro, who is heading the kitchens of Palás Cerequio, the resort that Michele Chiarlo has restored from the ancient hamlet of Cerequio, immersed among the vineyards, starting this year.
Nigro, who gained a Michelin star at Villa d'Amelia, will manage the restaurant together with his partner Elena Boffa and his second in command Marco Angeloni, offering what he calls an «evolutionary» cuisine. A way of doing things that is a far cry from the excessive experimentation done by «television» chefs, focusing on a flavor that, even in contemporary recipes, respects the simplicity of the three pillars he would never do without: quality of raw materials, seasonality and avoiding waste.
Damiano, why do you define your cuisine as «evolutionary»?
Because it is capable of changing, in a slow and steady manner, according to contemporary tastes and necessities. It does not strain or force anything, nor does it have with unexpected changes.
Can you give us an example?
I learned how to make ragù from my mother and grandmother when I lived in the family farm in Brindisi. They put everything together: meat, vegetables, freshly picked tomatoes. Their slow cooking blended the ingredients together, including the meat fat which provided men with the energy they needed to work the land. Now that we no longer hoe the ground, that fat is not needed. I use my grandmother's recipe, but I drain the fat to make a lighter sauce that is easier to digest. Recipes change, but the flavors remain the same.
---
---
Are the flavors of your childhood still present in your dishes?
Always. And they are the foundations of my cooking. Life in the countryside has taught me to follow the seasonality of products and avoid wasting resources. Cooking must respect what nature offers at a given moment because seasonal produce brings out the best expressions. Just like how it is for wine, whose quality is directly proportional to the perfect ripeness of the grapes.
What does flavor mean to you?
It is the heart of all recipes. Something that grows with time and changes according to one's personal experiences, childhood being the most important one. Flavor cannot be codified, nor can it be put down in words: it is the very soul of the chef, engraved with his gastronomic "adventures", his growth as a human and in his work.
Music and sports are some of your passions.
I love classical music: Paganini, Vivaldi, Ponchielli, Mascagni. I am a very private listener: I do it early in the morning, away from everybody else. And I love sports: judo, kickboxing, swimming, running. I see it as a form of "asceticism": isolating myself from the world to completely focus on practicing it. Combining music and sport, for example, while running with earphones on, is for me the very idea of perfection, at least for a moment.
What are your expectations from this new collaboration with Michele Chiarlo?
Directly handling the kitchen grants me great freedom of expression, but I want to use it cautiously. We are studying a menu that is "intense" but not "long": a few dishes that will be masterfully created. It will reflect my personal taste and the Langhe tradition, intensifying local flavors without misinterpreting them. I am happy to be working closely and sharing ideas with the Chiarlo family, which will tie my dishes even closer to the territory. Our dream is to create a welcoming place, where guests can truly feel at home, pampered by high-quality hospitality, gastronomy and Piedmont wine.
Are there any projects in the pipeline?
One of the rooms at the restaurant will be used for Barolo crus. Over 400 labels from the main vineyards and producers of the denomination will be displayed on one wall. It will definitely be a sight to see and enjoy. Michele Chiarlo designed Palás Cerequio as a real "temple of Barolo": the underground caveau houses thousands of bottles in different sizes, with vintages dating back to the 1950s. A collection of labels to wonder at through custom and exclusive tastings, led by sommelier Roberto Stroppiana.
---
!Discover Palás Cerequio and book a tasting in the "Tempio del Barolo"!